2016 IHCUS NATIONAL SPECIALTY
Dates: September 13th through 17th, 2016

Location:
Purina Farms:  200 Checkerboard Drive, Gray Summit, MO 63039
(Refer to the 2009 Summer T.E page 12 or the 2016 Spring T.E. for information on the members vote for default location.)
Judges:
Russell McFadden (NM) ——- Regular Conformation, Juniors,                                                                                        4-6 month Puppy Class
Then (1993)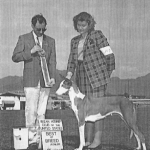 Now (2016)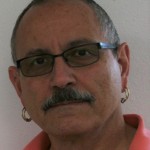 Russell's Critique from 1993 can be found here:  Critique 1993
My experience with sighthounds dates back 45 years at this point in time. I got my first Afghan Hound in 1971 and two years later my first Whippet. Since that time I have bred a number of Whippet champions under my Timbrel prefix and had some tremendous good fortune with a very small breeding program. Over the years, I have also owned and shown Salukis and one very incredible Ibizan Hound. I currently have two Whippets and a Saluki.
I initially started studying Ibizan Hounds so that I could apply to judge them as part of the Hound Group. The more I learned about and was around this fascinating breed the more I liked and enjoyed them. So it was inevitable that I would end up owning one (although truth be told it was much more the other way around). I picked Cali up from her breeder, Mary L. Toliver, in March of 1992 and my household was changed for the next twelve years. Cali who became Ch. Hemato Cosa Caliente Timbrel was probably one of the smartest dogs I've ever known. She was a complete joy to be around and live with – except, of course, when she was showing all of my other dogs how to get into the same mischief that she had just figured out how to get into herself.
I was approved to judge Ibizans in 1992 by the AKC and shortly after that I had one of the greatest honors any judge could have given them bestowed upon me – I was asked to judge the first Ibizan Hound Club of the United States National Specialty ever held. This event took place on March 25, 1993, in Scottsdale, Arizona.
I joined IHCUS in the mid-1990s and was the Judges Education Coordinator for three years during the tenure of my membership. I was also the Show Chair for the three IHCUS National Specialties that were held in Albuquerque, New Mexico during that time frame.
I want to thank the members of IHCUS for asking me back to once again judge your National Specialty. I am greatly honored once again.
Nancy Billups (TX) ———— Sweepstakes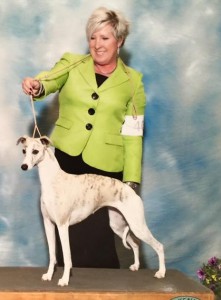 I grew up with toy poodles and German shepherds and was showing as a child although somewhat sporadically as my Dad liked to motor cross so I did that a lot! I got back into showing in my late twenties when I got a whippet puppy from a friend who also had Ibizans. I fell in love with her female named "Batty", CH Cien's Cara Mia By Danzante. She lived with her but she let me show her if I was going to a show. I have always owned, bred & shown whippets & later on thought adding an Ibizan Hound would be fun & it has been! I got my first Ibizan from Nancy & Harry Stabler, "Dreamy", CH Imagery Cloud Nine Dream Supreme who had me hooked the minute I got her! I have been lucky to have had beautiful Ibizans over the years from fabulous breeders & have finished them all & also had some nice group placements as well. It has been so awesome to see how nicely our breed has evolved over the years & I am deeply honored that my peers have asked me to judge their beautiful puppies! I look forward to seeing everyone & their fabulous Ibizans at the National.
Sincerely,
Nancy
Performance Judges
Abbie Hanson  (SC) ———- Agility
Marina Caro  (TN) ———— Rally
Pat Kasten (MO)  ———– Obedience
Darci Kunard (CO) ——- AKC Lure Coursing
Claudia Miller  (CO)—— AKC & ASFA Lure Coursing
Charles Roberts (OR) —- ASFA Lure Coursing
Links" will go "Live" as items/information become available
Specialty Committee:
Events Schedule:
 Trophy Sponsorship's & Other N.S. Items
Catalogs
Banquet & Auction Information
ANNUAL BANQUET
ANNUAL AUCTION
Being Held during the IHCUS Annual Banquet — Friday, September 16, 2016
The Banquet and Auction are being held at Purina Farms
Any questions email: national_auction@ihcus.org
IHCUS Would Like to Thank the Following 2016 Auction Donors:
Health Clinics
Parade of Honors
Host Hotel Information
Holiday Inn at Six Flags
(636) 938-6661
Download hotel information
Show Site Info
RV Parking reservations will open as of July 1st….
Send in your reservation early in order to get a spot.  There are 5 clubs hosting their National Specialty this year
Premium Lists
(Entries and Pre-Entries Close 08/26/2016 except where noted)
Superintendent (Foy Trent)
http://www.foytrentdogshows.com/
Three Rivers Premium List
View Three Rivers PL – PDF

Specialty Premium List
(for Conformation, Rally, Obedience, Sweepstakes, 4-6 month puppy classes)
View PL2016 Ibizan National Specialty – PDF
Agility – All Breed (entries close 8/30/2016)
AKC Lure Coursing
Thursday
(DOS entries accepted)The Pharaoh Hound Club of America will be joining us this year.
ASFA Lure Coursing
Saturday(DOS entries accepted)Italian Greyhound's and Pharaoh Hounds will be coursing with us this year

          Word  (Fillable entry form)

LGRA – Pre-Entries close Wed. Sept 7th

Canine Good Citizen Test (CGC)

and the

Community Canine Good Citizen Test (CGC-A)

Hosted by The Miniature Amer. Shep Club of Am.

 
Pictures 
Conformation
Performance Events
Lure Coursing: A group shot (by photographer Penny McNeil), will be taken of all handlers/owners/dogs that are available at the Lure Coursing Field. The picture will be taken before the ribbons are awarded at both AKC and the ASFA Trials.

Purina Sponsored Trophies
Purina will be sponsoring the following trophies (in addition to the trophies donated by or sponsored by individuals).
| | |
| --- | --- |
| Best of Breed | Purina Pro Plan Best In Show Grooming Bag |
| Best of Opposite | Purina Pro Plan Rolling Duffle Bag |
| Winners Dog | Purina Pro Plan Garment bag |
| Winners Bitch | Purina Pro Plan Garment bag |
| Best Owner-Handler Series | Purina Pro Plan Garment bag |
| Best in Puppy Sweepstakes | Purina Pro Plan Barrel Bag and Grooming Towel |
| Best in Veteran Sweepstakes | Purina Pro Plan Barrel Bag and Grooming Towel |
| Conformation Class Winners | Purina Pro Plan Six Pack cooler |
| High In Trial (Obedience) | Purina Pro Plan Rolling Duffle Bag |
| High In Trial (Rally) | Purina Pro Plan Rolling Cooler |
| Rally Qualifiers | Purina Pro Plan Slip lead |
| High In Trial (Agility) | Purina Pro Plan Rolling Duffle Bag |
| Best of Breed – IH AKC Lure Coursing | Purina Pro Plan Rolling Duffle Bag |
| Best in Event – IH ASFA Lure Coursing | Purina Pro Plan Rolling Duffle Bag |
| Lure Coursing (Class winners) | Purina Pro Plan Large Thermal Tote |
| Best Junior Handler | Purina Pro Plan Grooming Towel |
 RESULTS